ENT Physician in Fredericksburg, VA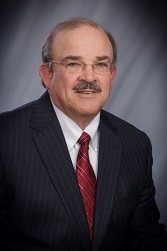 A native of Fredericksburg, Dr. Massey graduated from the University of Virginia School of Medicine in 1974. After graduation, he did an internship at the University of Kentucky and a residency in Otolaryngology at University of Florida. He also did a fellowship with the American Academy of Facial Plastic and Reconstructive Surgery in 1979.
He was on the Board of Directors of Mary Washington Hospital from 1983-1987. He has been a board member of the Rappahannock Area Hospice, President of the Fredericksburg/Spotsylvania Chapter of the American Cancer Society, chaired the Department of Surgery at Mary Washington Hospital from 1995 to 1997, and was Chief of Surgery at Mary Washington Hospital from 1997 to 2004. He is a past president of the Virginia Society of Otolaryngology. Dr. Massey is also a member of the Medical Society of Virginia, the American Medical Association and the Fredericksburg Area Medical Society. Certified by the American Board of Otolaryngology, Dr. Massey enjoys working with patients to find solutions to their medical needs. He looks forward to the opportunity to meet you and learning how he can assist you.